Great food, fun, and music will be the theme for Meals For The Elderly's 20th Annual Mardi Gras Celebration held from 5:30 – 9:00 p.m. at the McNease Convention Center on Tuesday, February 25th, 2020. All proceeds will benefit Meals For The Elderly, feeding hungry seniors in Tom Green County and Miles, TX.

Adult Tickets $25.00 each
Student Tickets $12.00 each (ages 5-18)
Texas Hold'em Tickets $25.00 each*
MahJongg Tickets $10.00 each*
Raffle Tickets $5.00 each or 5 for $20.00
*If playing Texas Hold'Em or MahJongg you must also purchase an adult ticket to play

For questions or to make your ticket purchases over the phone with a credit card, call 325-655-9200. This night is sure to be an unforgettable evening of fun and fundraising, so grab your family and your friends and make sure to attend this one-of-a-kind event that helps feed hungry seniors right here locally every weekday.
This event is the first fundraiser annually, and with your support, it will be this year's most successful!
For the past years, hundreds of patrons have come together to enjoy culinary delights prepared by area chefs and restaurants and have experienced some amazing Mardi Gras inspired fun right here in San Angelo.
To get up-to-date sponsorship information regarding our Mardi Gras event or any of our fundraisers, call (325) 655-9200 or visit 310 E. Houston Harte during business hours, or anytime online right here at MealsForTheElderly.org.
Thanks to all the supporters who made last year so memorable!
2020 Mardi Gras Event: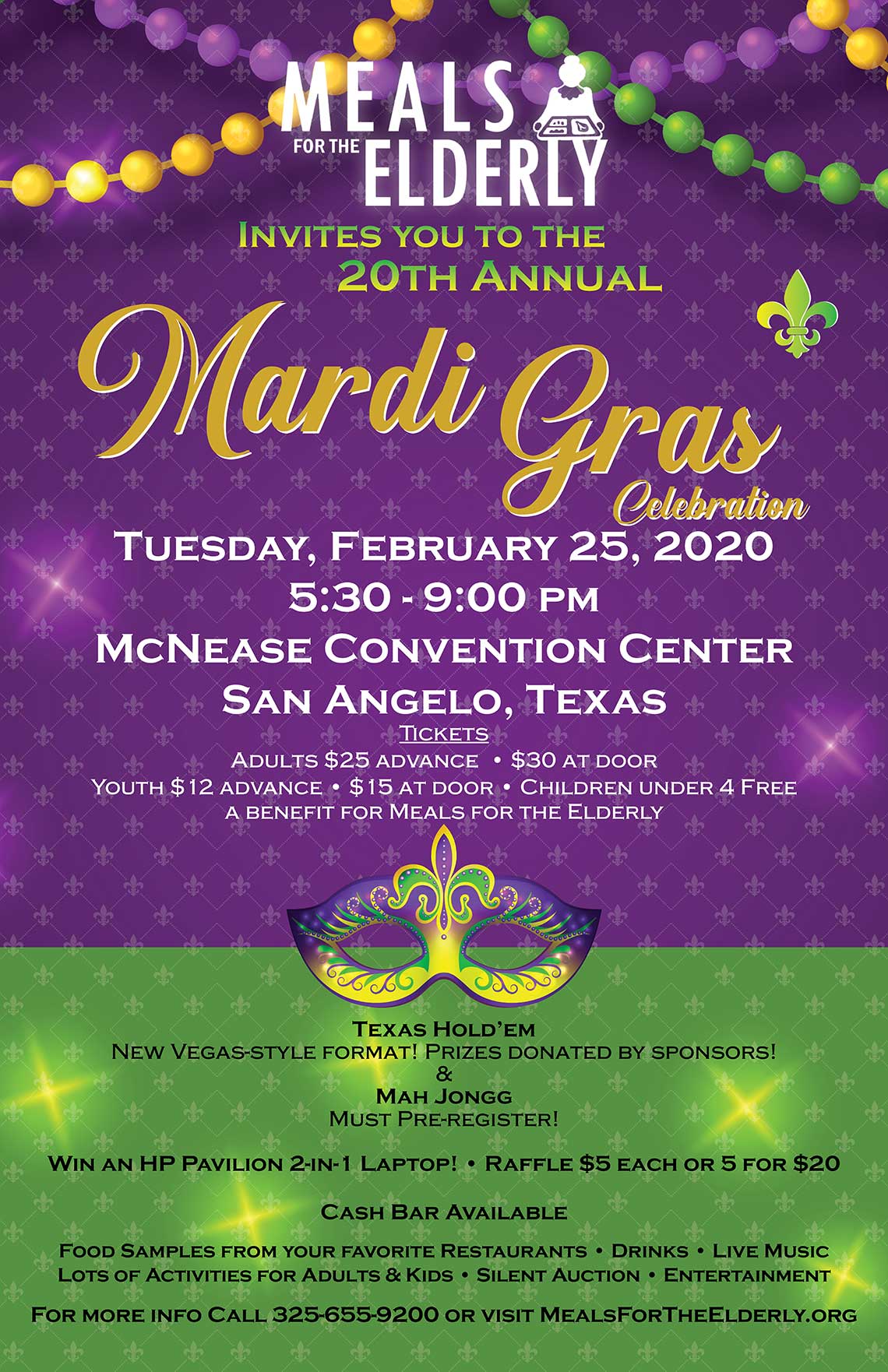 2020 Sponsor Thank You: