We cannot operate without the loving support of volunteers. With their help, we are able to deliver meals in San Angelo, Carlsbad, Miles, Water Valley, Grape Creek, Wall, and Christoval.
We have 50 routes to deliver every Monday through Friday. Volunteer driving opportunities include regular, substitute, and emergency.
Meal preparation and distribution volunteer opportunities are also available. We even have pet routes that can be delivered during any daylight hour, including weekends.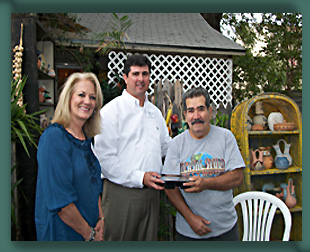 No matter the position you are interested in, we will need to get some information from you for our program's records. For your safety, and that of our clients, we need to have this information. All you tell us will be kept confidential. We want to take care of you, as part of our Meals For The Elderly family, because YOU help us care for our homebound seniors each weekday.
Please fill out the form that applies to you and expect to be contacted within the week. If it has been longer, please call 325-655-9200 to ensure your online submission was received. We are serious about keeping you informed of the status of your application, so if you have not heard from us, it is likely something has gone wrong. Let us fix it!
To help Meals For The Elderly by volunteering for any of the positions below, please contact Kelly Usry, Volunteer Director, at (325) 655-9200 or email her at [email protected].

Our volunteers are the heartbeat of our organization. Volunteers deliver nutritious meals over the lunch hour to the homebound elderly, to individuals with disabilities, to the chronically ill and to the convalescent living in their own homes. Meals For The Elderly volunteers help brighten the day for our senior neighbors by showing concern, having friendly chats, and making sure that all is well. With an office staff of eight and kitchen staff of seven, preparing and delivering meals to approximately 650 hungry homebound seniors five days weekly demands many more hours and hands than we have... hence, our trusted volunteers enter the picture. We are open Monday through Thursday from 8:00am-4:30pm and on Friday from 8:00am-12:30pm.