CLAY SHOOT AUCTION DONATION FORM
Our 15th Annual Sporting Clay Shoot will be June 13, 2020
at San Angelo Clay Bird Association!
This year's shooter package includes:
100 Targets on either the Red or Green course
Breakfast (served at 7am)
Lunch (served at 11:30am)
Shooters Prizes - A better than 1 in 10 chance to win big, details coming soon!
EARLY REGISTRATION - $160 per shooter (until June 3rd)
Registration - $170 per shooter
Both our 8am and 11am rotations filled up early, so take advantage of our advanced ticket discount and lock in your spot today!
Bring the whole family along for the fun!
Fabulous BBQ lunch (additional meal tickets only $10 each for non-shooters)
Live Auction features one-of-a-kind items
Music
Raffle Tickets and Gun Board squares will be available for purchase
We make it our mission to ensure each and every shooter we host will feel challenged while providing a laid-back shoot everyone can enjoy! We also pride ourselves on running this shoot as efficiently as possible, maximizing the fun and getting you on with your weekend. We value the time you spend with us helping homebound seniors!
For every $10 meal ticket purchased, those funds provide 3 meals for a senior in need!
We will also raffle off a popular gun at the clay shoot. Tickets can be purchased starting at our Mardi Gras event and from then on through our office or by contacting a Meals For The Elderly board member until we draw the lucky name on June 8th, at the conclusion of the shoot.
Purchase your 2020 Raffle Gun Tickets are $10 or 5 for $40
Win A Beretta A400 XCEL Shotgun (12 Gauge / 30 Inch Barrel)
Value of $1,800 - Sponsored By:
Each year we like to recognize and congratulate the top shooters of the red and green course, the top female shooter of each course, and the top youth shooter.
This year it could be you!
Special Thanks to our 2016, 2017, 2018, 2019 & 2020 Title Sponsor CalTech!!!!
2020 Clay Shoot Event:
2020 Results:
Kolton Jiron on Red with a 91 out of 100
Bill Holland on Green with a 91 out of 100
Tonya Brown as top female shooter with a 73 out of 100
Anna Wierzowiecki as top under 16 youth shooter with a 58 out of 100
We invite you all to join us again next year!
2020 Sponsor Thank You: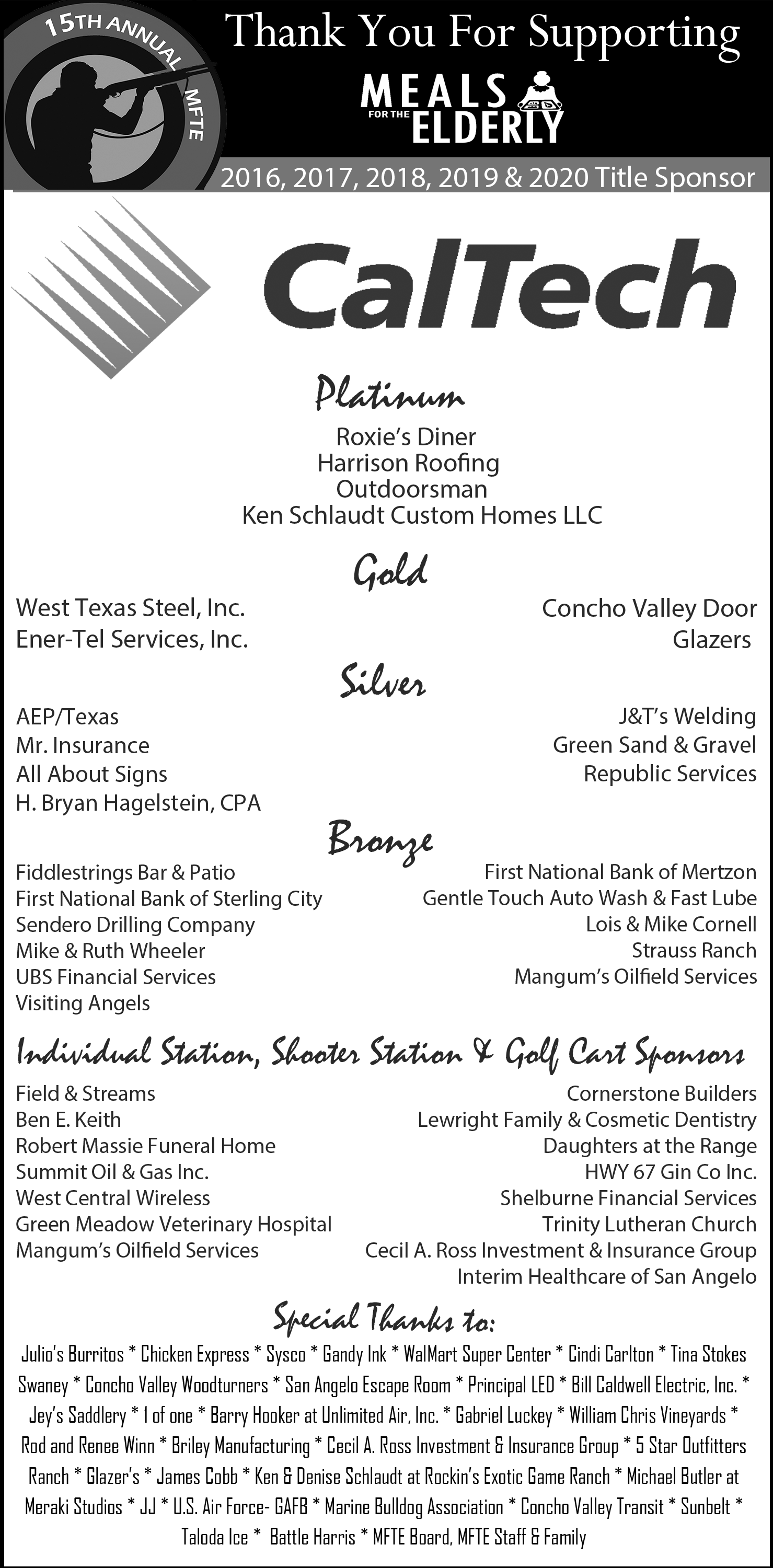 We invite you all to join us again next year June 12, 2021!
Please consider supporting businesses that care and support our community.
Looking to do more?
Consider donating an auction item or sponsoring our fun and exciting shoot this year. It's all available online now! Or you can always contact Dannielle Dunagan at (325)655-9200 or email her at programs@mealsfortheelderly.org.