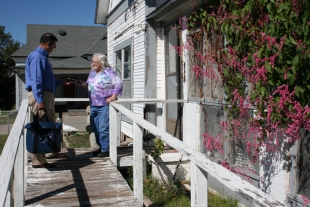 MISSION
Meals For The Elderly is a private, nonprofit charitable organization devoted to serving the homebound elderly of Tom Green County and Miles with one hot, nutritious, home-delivered meal each weekday, while ensuring their individual well-being through personal contact.
GOAL STATEMENT
In addition to the normal weekday meal, a sack lunch is provided on Friday of each week to assist the recipients in getting through the weekend. Frozen meals are also provided for evenings and weekends for recipients who depend solely on Meals For The Elderly for their meals. Good nutrition helps improve the health and well-being of the elderly, and improves their quality of life. It is our goal to enable the elderly to live independently, in their own homes, for as long as possible. The typical recipients are over seventy years of age, live alone, and are unable to prepare their own meals. There are no constraining guidelines on age, or income. The service is provided to people who are homebound, disabled, or unable to care for themselves, including individuals released from the hospital needing help getting back on their feet.
HISTORY OF MEALS FOR THE ELDERLY:
Meals For The Elderly was a dream of Mary Alice Rodgers, who saw the need for a program to help homebound elderly with their meals so that they could delay or avoid going to nursing homes. In August 1974, her hard work and determination began to pay off. Working out of a building donated by Mr. Sol Mayer, Meals For The Elderly was born. With the help of former Tom Green County Commissioner Arley Guess and a handful of dedicated volunteers, meals were delivered to sixteen recipients. The result was the founding of a private nonprofit organization called Meals For The Elderly. As the need for this vital community service grew, the need for additional preparation facilities grew. In October 1986, the community showed its support for Meals For The Elderly by constructing a new facility in two week-ends (in barn-raising fashion) with the aid of hundreds of volunteers and the San Angelo Home Builders Association.
Today, Meals For The Elderly continues the mission that began in 1974. We have expanded our services to include Tom Green, Concho and Irion counties as well as Miles, TX. Over the years, more than two million meals have been delivered and more than 12,000 different individuals have received these meals.